Captain Volcano (1880) Spotlight
About the novel
Captain Volcano is one of the few dime novels that includes explicit references to homosexual romance. Despite its subject matter, the novel does not appear to have been popular enough nor infamous enough to have ever become the subject of controversy.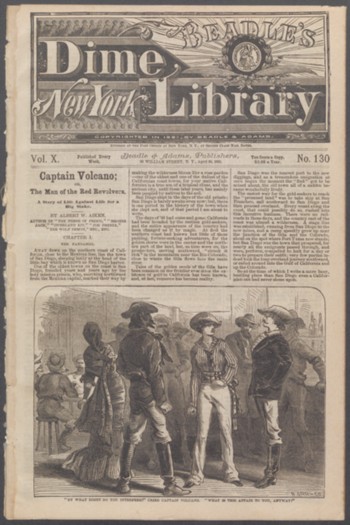 The story concerns pirates, a treasure hunt, doomed romance, and the political tensions of gold rush era San Diego, featuring a wide cast of characters: Jackson Blake (the "Man of the Red Revolvers"); Captain Volcano, a smuggler of queer passions; the alcade of the San Diego area; his daughter, the beautiful Margerite; Louis Grandville, a cold-hearted gold prospector from France; and a mysterious pencil seller, Nixey (later revealed to be a Mexican spy). Captain Volcano pursues an agenda of revenge against Louis Grandville, while also courting Margerite. As the narrator puts it: "...being strangely unwomanly, not only in her appearance but in her feelings, she had conceived that strange liking for other girls which has been known, in rare cases, to exist in the female breast" (page 23). Although Captain Volcano is the most interesting character, readers spend most of their time with Blake, whose motivations for being present in the narrative never quite become clear. Captain Volcano's gender and sexual orientation, known earlier to Blake, are only revealed to the reader on the last page, after she has already succumbed to wounds inflicted during the final, climactic battle. 
Captaive Volcano was originally serialized in the story paper New York Saturday Journal between December 11, 1880 and March 5, 1881 for 13 issues and 38 chapters, then later reprinted in Beadle's New York Dime Library nos. 130 and 1060.
Discussion questions
View "Autostraddle's Ultimate Infographic Guide to Dead Lesbian Characters on TV" with students, then discuss the theme of the "tragic" LGBT character in American media. Does "Captain Volcano" fit into this trend? In what ways does it deviate from the trend?
Captain Volcano's motives seem to change throughout the story. Why might this be? Are we meant to view Captain Volcano as more hero or villain?
Is Captain Volcano a Western? A pirate story? A romance? What aspects of the story help you come to your conclusion?
Characters in Captain Volcano sometimes appear to be from different races, ethnic groups, and nationalities. Cato, for instance, is Native American, but believes himself to be white. Pick a character from the story and describe how their gender, race, ethnicity, and nationality are expressed in the story, and whether these identities are known by other characters. How do these identities affect the options character have? How do these identities affect any motives characters have in the story?
Further Reading
Describes the reasons that some people in history would choose to cross dress, and considers the possibilities of gender identity and sexuality (as opposed to the need to move in gender-exclusive spaces) as motivations.
Discusses homoerotic text and subtext in dime novels and other early American popular literature, and in particular how "low" culture materials expressed social mores on topics of sexuality more clearly than "high" culture materials.
Discusses images and history of gender and sexual queering of the American West, particularly examining dime novels featuring women adventurers.